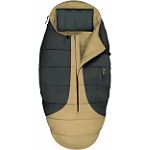 My son, Robert, turned nine today. He's a great kid.
I got him a new sleeping bag and a pair of portable binoculars for his birthday. The binoculars were a chance purchase -- a whole table full of
Bushnell small form factor binoculars
for less than $8 per pair at
CompUSA
of all places. However, the sleeping bag was something he needed since he's long outgrown the
Cliford
sleeping bag that my wife's uncle bought him when he was two and a half.
I went to
Wal-Mart
expecting to get a standard
Coleman
bag that I'd seen online, but I saw the
Sleepcell made by Cellcorp
and liked the features -- a built-in inflatable pillow, adjustable vents on the side for warm-weather use and additional length created by the oval shape. I bought it and wrapped it up for his birthday today.
Robert opened it in a flurry with the other stuff from grandparents, neighborhood kids, etc. Afterwards, he opened the bag and I inflated the pillow. Mild surprise: the pillow is contoured for your head! The material is polyester microfiber rather than nylon, another unexpected plus. Finally, it really is comfortable for someone of my height!
I think I'm going back to Wal-Mart this evening after church for another sleeping bag for me! I can't let the boy have all of that fun without me!